Discover The Jewels of Happiness…
Sri Chinmoy – prolific author and student of peace – shares thirteen secrets to abiding happiness.
Available in print and audiobook.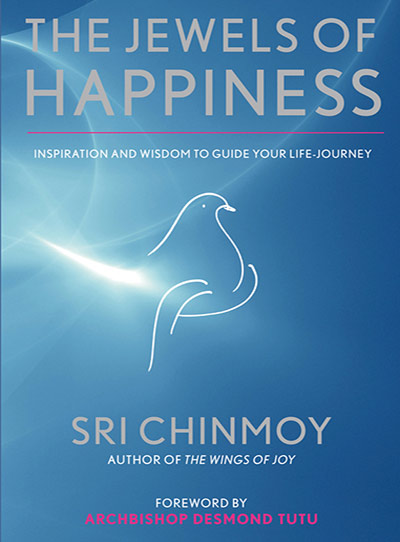 …timeless truths full of encouragement.
"These sweet gems of wisdom by my dear friend Sri Chinmoy are timeless truths full of encouragement, love and goodness."

Archbishop Desmond Tutu (extract from the foreword)
More praise for The Jewels of Happiness:
The Jewels of Happiness is beautiful and inspiring, and is a reflection of Sri Chinmoy himself. It shines with the spiritual joy of a life well lived. Jane Goodall
Reading this book will allow you to experience a radiant and abundant awareness of how to achieve happiness. Roberta Flack
Sri Chinmoy takes us into a world where we pursue our most wanted desire – to discover the true meaning of happiness. Jose Ramos-Horta
… and the audiobook is pretty special too.
In its own right, the audiobook is a unique collector's item – a collaboration amongst 17 renowned spiritual, diplomatic, artistic and athletic luminaries who have all shared close ties with Sri Chinmoy. Sit back, listen and enjoy timeless wisdom read by celebrities from all walks of life.
Video: Chapter 2: 'Love', read by 5-time Grammy winner Roberta Flack.
Guest readers on our audiobook:
More readers: Ambassador Anwarul Choudhury (former UN Under-Secretary General), Narada Michael Walden (3-time Emmy Award Winner), Charles Johnson (National Book Award winner), Cathy Oerter (co-founder of Art of the Olympians with her husband, 4-time Olympian Al Oerter), Ambassador Davidson Hepburn (President, Unesco general conference, 2009-2011)
Khaliah Ali (Emmy Award nominated talk show host, humanitarian and daughter of Muhammad Ali), Professor Shawn Wong (award-winning author), Ashrita Furman (holder of the most Guinness World Records), Eric Petersen (author of Light and Liberty, a celebrated collection of Thomas Jefferson's writings)
Reader Reviews of The Jewels of Happiness
"As he uses his experience as Peace meditation leader of the United Nations, Sri Chinmoy encourages people to find their enthusiasm for life, and with that, they will find love as well. The Jewels of Happiness is an excellent read with much to teach, highly recommended." Midwest Book Review
"There is tons of books on happiness… but this one is different! Rather than saying what you should do, how to behave, etc, it naturally and gently inspires you to be a better human being and then you gradually start to feel the real and lasting happiness deep inside you. Just listening to/reading this book uplifts you more than you would expect." Jayana
"Sri Chinmoy became cemented in my mind as a true literary giant. He presents such profound thoughts in an amazingly eloquent and simple manner. The mark of a true genius, I think, is the ability to distill profundity into simplicity." Rudy Andrews
"A beautiful book. Full of inspirational and totally practical words of wisdom to help and guide one through everyday life. Can be read as a whole or simply (my preference) dipped into. Its messages are full of hope, that seem to transfer readily to the reader with ease and optimism. Highly recommended." Rita Mehta
Supporting the International Day of Happiness
The Jewels of Happiness project is a proud supporter of the
International Day of Happiness
, which was declared by the United Nations General Assembly.
As part of the celebrations for the inaugural Day of Happiness, the first edition of the audiobook was launched at the United Nations.
How to order
Print and e-book
Audiobook
For our
6 CD audio set
please order from Heart-Light Distributors by calling
1-800-739-2885
.
Visit site »