If health equals happiness, then it is worthwhile exploring the option of becoming a vegetarian. A series of studies began at the Linda Loma University, California, in the 1970s and 1980s and continue to this day. These studies have found that vegetarians live longer than meat eaters.  Fruits, vegetables, nuts and legumes–foods frequently consumed as part of a vegetarian diet–help to reduce the risk of cancer, heart disease and Type II diabetes. A vegetarian diet also helps to control body mass index, waist size and boosts brain health.
If a vegetarian diet seems like an unattractive proposal, why not start by simply reducing meat in your diet and replacing it with some of the tastier vegetarian foods? In this article, we will discuss tofu, which is derived from soy beans and is a very common meat substitute in a vegetarian diet.
An introduction to tofu
Tofu is one my favourite vegetarian foods: high in protein, low in fat and easy to cook. You can get it in health food stores, and (often much more cheaply) in Chinese and oriental food stores. By itself it is pretty bland in taste and appearance so it needs to be flavoured and seasoned well to make it tasty and appealing. Tofu will not absorb oil or fat, leaving it crunchy on the outside and soft in the middle.  It will, however, absorb non-fatty liquids, for example, tamari, soy sauce, ginger juice, lime juice, spices, pepper and salt.
For more info on the nutritional value of protein, please scroll down to the bottom of this article. Then try out these tofu recipes and enjoy a virtuous feast!
Pan-fried tamari tofu 
What you need
250g tofu, cut into slices
Olive or coconut oil
Tamari or soy sauce (tamari is a gluten-free type of soy sauce)
Slice of lime (optional)
Ginger (fresh or powder)
Curry powder
What to do
1.  Dry off the tofu with a paper towel.
2.  Sauté the tofu in some olive oil, a squeeze of lime, ginger and a generous sprinkling of tamari (or soy sauce) until it browns.
Scrambled tofu with turmeric and fried onions
What you need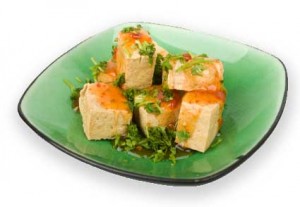 300g silken tofu
Olive or coconut oil
1 tsp turmeric
½ tsp ginger
Tamari or soy sauce
2 red onions, chopped
What to do
1.  Drain tofu of excess water.
2.  Put oil and tofu in a frying pan.
3.  Fry the onions in a separate pan.
3.  Mash the tofu in the frying pan with a fork.
4.  Add a dash of tamari or soy sauce and the spices. Stir the mixture and heat.
5.  It can take up to 10 minutes in the pan for the excess moisture in the tofu to evaporate. The finished consistency will be like scrambled egg.
6.  Serve the tofu with veg, on toast or on a bed of rice, garnished with the fried onions.
Some hard facts on tofu
There are two main kinds of tofu: silken and regular. Silken tofu, also called soft, silk or Japanese-style tofu, has a softer consistency than regular tofu and will fall apart if not handled carefully. You may notice that silken tofu (soft tofu), unlike regular tofu, is sometimes packaged in aseptic boxes that do not require refrigeration. Regular tofu is usually found in the refrigerated section of your health shop or supermarket.
Both silken and regular tofu can be found in soft, medium, firm and extra firm consistencies. They are made from the same ingredients, but they are processed slightly differently. You can scramble silken tofu as in the recipe below or use it in desserts (tofu cheese cake) or salad dressings. Use regular tofu for stir fries.
The perfect protein
One half-cup serving of raw firm tofu contains 10.1 grams of protein. The recommended daily intake is 56 grams for most men and 46 for most women. A half-cup of tofu is approximately 4 oz by weight, or just under 1/3 of the average sized 14-oz package of tofu. By comparison, 1/2 cup dairy milk contains 5.1 grams of protein, one 3-oz egg contains 6 grams and 4 oz ground beef contains about 26 grams of protein. Tofu is an excellent source of vegetarian protein.  ((http://vegetarian.about.com/od/healthnutrition/tp/protein.htm))
One half-cup serving of raw firm tofu contains 94 calories. By comparison, 4 oz ground beef contains 331 calories, 1/2 cup of 2% milk has 60 calories and 4 oz of cheese packs 320 calories.
Tofu is low in calories for the protein it packs in. Here's how it compares to a few other foods. For each 100-calorie serving, tofu contains 11 grams of protein. By comparison, 100 calories of ground beef provides 8.9 grams of protein, and a 100-calorie serving of cheese contains 6.2 grams.
Other nutritional info
One half-cup serving of raw firm tofu contains 5 grams of fat. 4 oz of beef packs a whopping 15 grams of fat, and one egg contains 5.5 grams of fat. Tofu is a cholesterol-free food, as are all plant-based foods.  By comparison, a half-cup of 2% milk contains 9 mg of cholesterol, 4 oz of fish contains 75-100 mg of cholesterol and 4 oz ground beef contains about 113 mg cholesterol.
One half-cup serving of firm tofu contains about 227 mg of calcium or about 22% of the RDA. Tofu may contain a little bit less calcium depending on the brand and the way it was made so be sure to read the label if you're concerned. Silken tofu contains approximately 133 mg, again depending on the brand.
One half-cup serving of firm tofu contains about 1.82 mg of iron, though this can vary greatly, depending on the brand. The RDA for women is 18 mg, and 8 mg for men.
By the way … don't just keep it all to yourself; share with some friends. You'll feel happier!