After one lap, thoughts of the finish line trespass into my mind. I try to push them back. Not yet! Just two more laps, I tell myself. My heart is racing somewhere in the upper 160s, my breath comes raw and ragged, my legs are pumping in their old, familiar racing rhythm. It's my first serious race in over a year, my first cross-country race in well over two and a half years and I'm trying my best to savour the moment, although suffering through it would be a more fitting description. Yet I'm still in second place.
In the last mile, my unwanted mental guests return for a final brawl and it takes all my will power to keep them at bay. The long break from racing, caused by heart-breaking injuries, has left my mind unused to its physical onslaught.
I'd forgotten how tough it is! When, after nine grueling kilometers, I finally cross the finish line, relief and joy wash over me like old, familiar friends. Now I'm savouring the moment. A deep satisfaction seeps into every aching cell of my body. Its cooing, murmuring sweetness remains with me …
… during my cool-down jog, the train ride back home and the rest of the entire day. My whole being is immersed in quiet bliss.
That's why I love racing. The rewards are enormous!
I sparred with running briefly when I was sixteen. Whereas the boys in my soccer team, as by common agreement, all changed into men, I remained tiny, fragile and skinny. Tired of being physically overpowered on the pitch, I decided to change sports. My dad had been a pretty good marathon runner, and he persuaded me to register with a local running club. Twice a week I rode my bike to the track and went for training runs through the forest with my coach and one or two other youngsters. I was too young and restless, however, to appreciate running's quiet, subtle satisfactions. Having been a soccer man all my life, running was way too dull. Despite showing some raw talent, I gave it up after a year.
Running and I were reacquainted four years later, when I became interested in meditation and joined the Sri Chinmoy Centre. This time we remained good friends. It turned out that running played an integral part in my teacher Sri Chinmoy's spiritual philosophy, both as a means of staying physically healthy and as an opportunity for what Sri Chinmoy called "self-transcendence," going beyond one's preconceived limitations. "Self-transcendence gives us joy in boundless measure," Sri Chinmoy wrote. "When we transcend ourselves, we do not compete with others. We do not compete with the rest of the world, but at every moment we compete with ourselves." It was like music to my ears.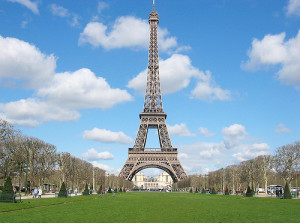 Two years later I ran my first marathon in Paris, France, where I worked as a waiter in a vegetarian restaurant. Marathon training changed me from a recreational runner to a serious athlete, one who runs for self-transcendence. I got my training schedule from an Eighties book on marathon training that belonged to my dad. There were schedules for different finishing times, and I started with one geared for three hours.
When the workouts proved easy, I chose the next one, which aimed at a 2:35 marathon. Way out of my league, but I thought I'd try anyway. I would run twice a day, in the morning and in the evening. My training runs gave me a taxidriver's insight into the city's topography as I logged hundreds of miles through Paris's myriad parks and avenues. It was the first time I had trained for a race and I felt as if I were on a mission, an adventure exploring my own physical horizons. It gave my running a totally new meaning and joy.
The race was the icing on the cake. The happiness of finishing the marathon even surpassed the happiness I experienced during my training. Although the last three miles were sheer torture and I felt like a shipwreck survivor battling to shore, I crossed the finish line in ecstasy. My time of 2 hours 45 minutes wasn't too bad either.
To me the charm of running races is the opportunity for self-conquest. You know you are going to hurt, but you also know there is a reward waiting for you at the finish line that no money can ever buy. It's the happiness of self-transcendence, the satisfaction that springs up inside when you have tried your very best. A half-hearted effort brings no joy. That's why I try to give everything when I race.
Every serious runner, whether amateur or professional, has had at least one perfect race. Mine was the Amsterdam marathon of 2010. Since I lived in Amsterdam and the race course went right by my house, it felt like a home game. My preparation went smoothly – close to perfect. In the weeks leading up to the marathon, my body felt light and weightless, as if its engine had been replaced by an eight-cylinder.
Aside from training hard, I had also practiced visualization. The days before the race I pictured myself flying over the course and crushing the 2:30 barrier, which had been a long-standing goal. Sri Chinmoy writes, "Imagination has a world of its own. From there, the reality descends into our physical mind." During the marathon I experienced exactly that. I was flying over the course as I had done in my visualizations. My dad rode behind me on his bike, encouraging me the whole way. The last five miles were utter euphoria. The discouraging end-of-marathon pain and discomfort were completely absent and I felt only joy and satisfaction.
I finished in 2:27, lowering my previous best time by nine minutes. The happiness that resulted from that race was so pure and intense, it lasted for a long time. It had been my biggest self-transcendence so far, but I felt I was not the doer. I felt it had been God's Grace working in and through me.
Ultimately self-transcendence brings us in touch with our own divinity, with God's Love and Compassion deep within us. In the end, I think that is the reason why I love racing so much. It brings me closer to the Source.